The A465 will be changed to 2 lanes in each direction from Glanbaiden junction at Gilwern to Brynmawr roundabout.
For more information about this project, please see Welsh Government links on at the bottom of the page, for information on traffic management see details below.
This work is taking place on an 8km section of the A465 road, between Brynmawr and Gilwern. The existing A465 was built in the 1960s and a traffic study identified the need to improve the road by:
making the road safer, especially around junctions and areas with poor visibility

improving traffic flow and making it safer to overtake. 
Glanbaiden Roundabout to Brynmawr Roundabout weekend Closure (Jack Williams bridge will be open with traffic lights
A sequence of weekend closures of the A465 are programmed for maintenance and repair to the Jack Williams Bridge barrier. 06:00am Saturday through to 18:00pm Sunday.
10 - 11 June 2023
1 – 2 July 2023
8 - 9 July 2023
22 - 23 July 2023
There will also be a series of overnight closures for emergency carriageway repairs 
12 June A465 closed eastbound between Brynmawr and Hardwick 20:00-06:00.
13 June A465 closed westbound between Hardwick and Glanbaiden 20:00-06:00.
The dates may be changed for various reasons, such as bad weather. 
Please find the latest diversion routes:
Motorists will be able to cross the A465 at Saleyard from Station Road in the south to Main Road in the north and vice versa. Motorists will also be able to cross the A465 using side roads, at Gilwern from Station Road in the south to Main Road in the north and vice versa.
Emergency vehicles are able to pass through the works during the closures. The road can also be reopened in the event of disruption on the M4.
Diversion for pedestrians and cyclists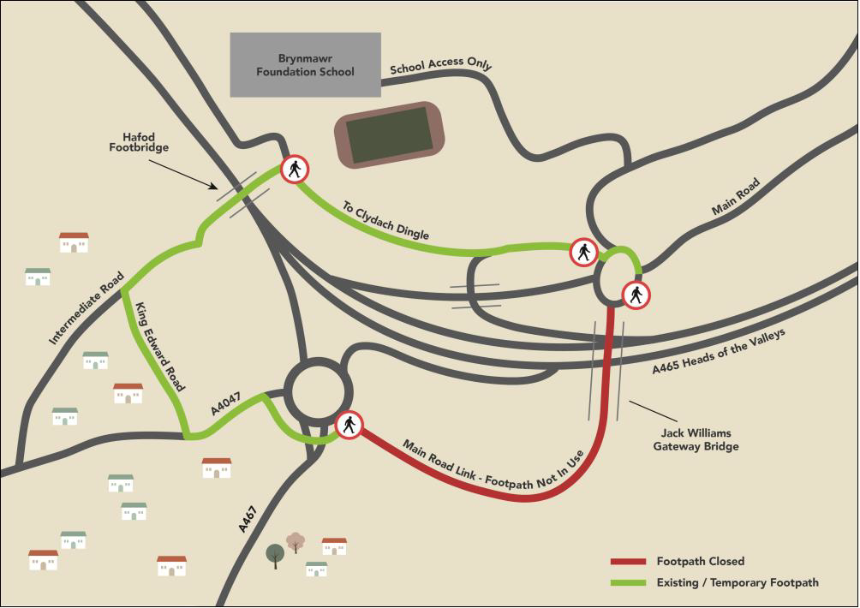 Follow @TrafficWalesS on Twitter for the latest traffic management measures on this road.
For community queries or complaints please call 0845 600 2664 or email [email protected].