The North and Mid Wales Trunk Road Agent (NMWTRA), on behalf of the Welsh Government, have been tasked with delivering work to improve junction 19 of the A55, helping make it greener and safer for pedestrians, cyclists and motorists. The work will include widening of the junction, the construction of safer crossings for pedestrians and cyclists, the installation of traffic signals at key locations and an upgrade from the current street lighting to an energy-efficient LED alternative.
Whilst there may be some short term disruption to road users whilst construction is completed, the outcome will deliver long term benefits to all road users.
Safer Journeys
Improving cycling and walking networks
An additional 6 crossings will be installed for pedestrians and cyclists, as well as a new, safer route through the roundabout. The routes for cyclists and pedestrians will also link with the current path on the A470 to encourage active travel in the area.
With these measures in place, it is expected that the number of accidents that currently occur at this busy interchange will reduce by a third.
Improved Journeys
Reduced congestion and journey times
Traffic signals will help manage congestions on the off slips, reducing the lengths of queues, as well as reducing traffic speed to improve safety on the roundabout.
This scheme could reduce congestion during the morning and evening peaks by over 50% with traffic no longer queuing back through the Black Cat roundabout.
Greener Journeys
Energy-saving LED Street Lighting & Encouraging Active Travel
Lighting upgrades are being planned at the same time as junction improvements to ensure the network can be maintained in a more cost-effective way.
In 2016 the transport sector in Wales contributed 6.31 Mt of CO2. This improvement to the visibility and safety of pedestrians and cyclists will encourage more people to make journeys on foot or by bike, thereby creating a greener and cleaner Wales for future generations.
Views from the Public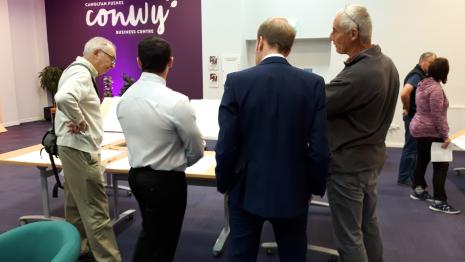 It's vital that we get all aspects of the design, construction and operation of junction right so that we can minimise the impacts and maximise the benefits of this improvement scheme.
Here's a selection of the feedback we've received from you during our recent public consultation event.
"Improvement work is badly overdue and we fully support it in principle, for the benefit of all road users."
"The current junction is a nightmare for pedestrians and this option would addresses this."
Pedestrains and cyclists attempting to cross the busy interchange felt like they were "taking their lives into their own hands""
"As a confident cyclist I cycle through the junction but I would not bring my children through here on weekends as it is too dangerous. This scheme is significant benefit to the walking and cycling infrastructure".
"The current junction is a nightmare for pedestrians and this option will address this."