Conservational construction- how a road tunnel created a bird sanctuary
Today's nature reserve was created from material dug out during the building of the A55 road tunnel. When the settling lagoons had dried out, earth was moved to create the ideal wetland environment for nesting birds.
Built in 1991, the tunnel carrying the road underneath the River Conwy was a first of its kind in the UK. It is still the longest road tunnel in Wales.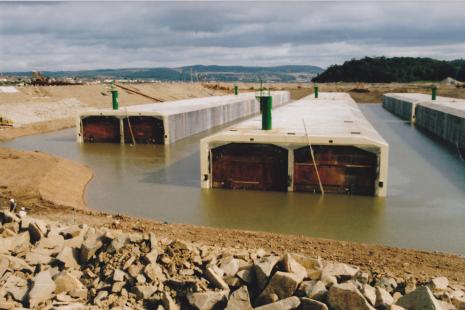 A feat of civil engineering
The tunnel cost £102m and took 5 years and 1000 workers to construct, at the time it was the largest road related construction project in the UK. The tunnel consists of three parts, east and west cut and cover sections that were constructed in situ and then buried and a central immersed section under the estuary. The immersed section consists of six steel reinforced concrete tubes that were constructed in what is now Conwy Marina. Once completed they were floated out and sunk in a pre-excavated trench before being covered. Each tube weighs 30,000 tonnes. The tunnel is 1,089 metres long and in total is comprised of 300,000 tonnes of concrete and 10,500 tonnes of steel reinforcement.
The underwater sections were floated out to their final positions with incredible accuracy. This took a collaborative effort, including a team of 90 divers working 24 hour shifts making approximately 7000 dives.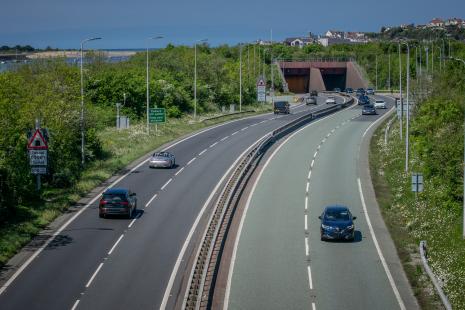 A route to a bright a new future
The Conwy tunnel crossing was lauded as a "new link in a golden chain" of road projects. These schemes were designed to secure the prosperity of North Wales and improve the quality of life of communities along the A55. 
As well as providing the wild bird haven, it also helped bring an end to the problem of traffic congestion in Colwyn Bay and Conwy. It was opened by the Queen on October 25th, 1991. 
The Conwy tunnel today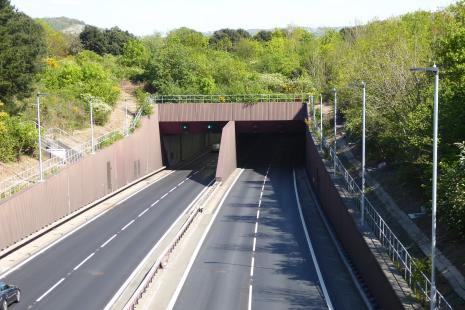 The Conwy Crossing continues to improve the lives of residents and visitors by supporting millions of journeys per year. The tunnel and the A55 plays a vital part in making the nature reserve accessible to all.
Today's tunnel technology is still as cutting edge as it was when originally built. It includes 36 giant fans in each bore, CCTV cameras, emergency telephones, incident detection and public address systems and 1,850 LED lamps that automatically adjust to visibility conditions. These are supported by 4km of cabling and 3km of steelwork. This safety-critical equipment requires regular maintenance to keep the tunnel in peak condition.
Conwy Tunnel construction in pictures